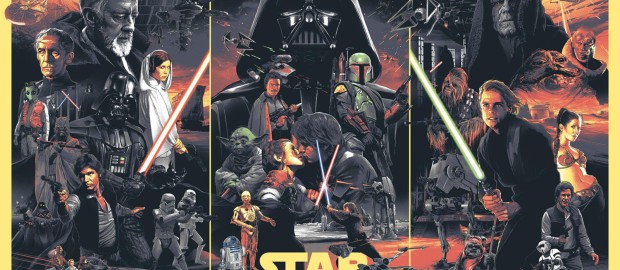 Se acerca un nuevo capitulo de la saga de Star Wars, así que nos acompaña nuestro amigo Luis Herrero del podcast de El Calce para hablar del universo de Star Wars. Este será el primero de una serie de episodios como antesala a la premier de The Force Awakens. En este, nos enfocamos en el trasfondo de esta saga. Hablamos sobre la serie Clone Wars, el ascenso de los Siths y quiénes son los nuevos malos de la película, The First Order. También, discutimos qué cosas forman parte del Star Wars canon, cuáles se quedaron fuera y los libros Aftermath y Lost Stars.
Hacemos algunas predicciones de The Force Awakens pero no hay soilers. Como bien explica Luis en el episodio, solo son pura especulación sin base ni fundamento. ¿Quién morira? ¿Será Luke bueno o malo? ¿Cuál será el rol de Benicio del Toro en Episodio VIII?
Déjanos saber cuáles son tus predicciones para The Force Awakens en los comentarios. También, dinos qué más te gustaría saber sobre el universo de Star Wars para hablarlo con nuestros expertos y discutirlo en los próximos episodios.
Participa en nuestro sondeo ¿Cuál es el Jedi que retornó en Return of the Jedi?
Puedes seguir a Luis Herrero en Twitter.
Arte por Bottleneck Gallery